How to delete your Unibet Account?
30 May 2023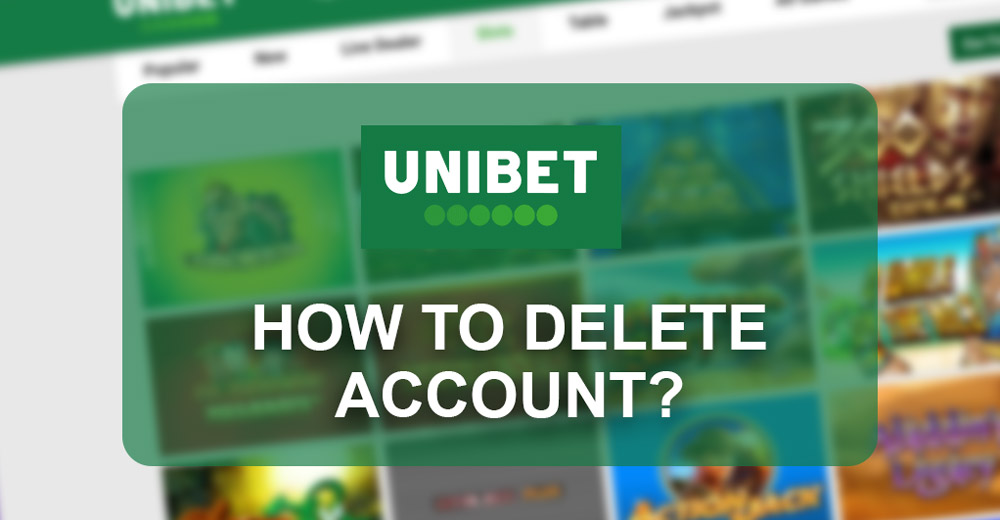 If you have developed a gambling problem or simply want to switch to another casino, you may want to delete your Unibet account. Fortunately, it is easy to do this. In this guide, you will learn how to delete your Unibet account in just a few simple steps.
Steps for Deleting a Unibet Account
If you want to delete your Unibet account, please follow these steps:
Click "Sign in" to add your details.
Deactivate my Account
Select a reason from the menu.
To permanently delete your account, click Confirm.
Unibet will always close your account if they find out that you are cheating.
Can I Ask the Support to Deactivate My Account
You can close your Unibet account by sending a message to support. Include details that prove that you are the account owner and mention that you wish to close your account.
Email Draft Template
Please close my account. I have written to you several times without a response. Here is a sample email you can use:
To: Unibet Support / [email protected]: Request for Account Closure
What Are the Requirements for Closing Unibet Account
To close your Unibet account via email, please send us the following information:
Please include your full name and contact information in your email.
Please include the reason for your account closure.
Use a suitable email subject
At Unibet, you can voluntarily deactivate your account without giving a reason.
How Long Does the Process Take?
If you choose to delete your account manually, the process should take approximately 1-2 minutes.
Unibet will close your account as soon as they see an email from you. The process usually takes a few hours. If you send the email outside of regular working hours, the process may take longer. Once your account is closed, Unibet will send you a confirmation email.
Why should I delete my Unibet account?
To help us improve our services, we'll ask you for a reason when you terminate your Unibet account. Here are some common reasons people give for deleting their Unibet accounts:
Gambling can be addictive.
The casino is sending too many marketing emails. I am not interested in receiving them. Please stop sending them to me.
You want to switch to a casino with better bonuses. You've been playing at another casino but are disappointed with its rewards.
You've decided to stop gambling.
It's time to set limits on how much time and money you spend gambling.
What Are the Alternatives to Account Closure at Unibet?
If you are concerned about an addiction to gambling or simply want to delete your account, you can find some helpful information in the Responsible Gambling section of your account. Check it out before wondering how to delete Unibet account.
Restrict My Gambling
To block yourself from a specific product on the site, go to Settings and choose 'Restrict My Gambling'. You will see a list of products you can block yourself from. For example, you can block yourself from the sports betting section. You will also have to select a duration for the restriction. Make sure you check the details of the block since the process can't be reversed.
Self-Exclusion
If you want to block your access to the site entirely, you can use the self-exclusion feature. To do this, go to your My Account page and click on the 'Exclude Yourself' link under the section labelled 'My Account'. You'll be asked to choose a duration for your exclusion and accept the terms and conditions. We will then send you an email with details of your exclusion. This process cannot be reversed, so please make sure it's what you want before you proceed.
Deposit Limits
To help you gamble responsibly, make sure you set deposit and loss limits. If your account does not have these limits, contact customer support immediately. Limits can run for a period of 24 hours, 7 days or 30 days. Raising the limit may take some time before the changes are implemented; however, lowering your limit will reflect instantly.
Loss Limits
The loss limit feature lets you control the amount of money you can lose in a day, week, or month. If you reach your loss limit after playing a game, the casino will block your access to that product for the remainder of the day or week. Setting a loss limit is crucial since it prevents gamblers from chasing losses.
How Do I Reopen My Deleted Account?
If you change your mind about closing your account, you can reopen it by emailing the casino. The casino will reactivate your old Unibet account for you. You won't be able to open a new account directly with Unibet (they don't allow such things).
If you use the self-exclusion feature, you won't be able to reactivate your account before the set duration lapses. Likewise, if you choose to use the 'Restrict My Gambling' feature, you won't be able to reverse any decisions made while it's active.
FAQs
Can I use a different account after I close my Unibet account?
Unibet does not accept multiple accounts. If you want to deposit with a new account, you need to contact customer support via email. Players who have self-excluded themselves can't use a new account and also can't reverse the process.
Do I have to withdraw all my money before closing my account?
To withdraw your money from your Unibet account, simply send an email to the casino support team.
What happens to my pending bets when I close my account?
If you have any pending bets while contemplating how to delete your Unibet account, they will be settled normally. However, in order to withdraw any winnings you have received from your bets or any active bonuses you have received, please contact the support team.
How does self-exclusion work?
Self-exclusion is a way to control your gambling. You can choose to self-exclude for six months or more, and this option cannot be reversed. It is meant to help you manage your gambling problems.
Will self-exclusion from one online gambling site block me from all other online gambling sites?
Gamban is an anti-gambling software that can be used to restrict your access to online casinos. Unibet customers can use this software for free.